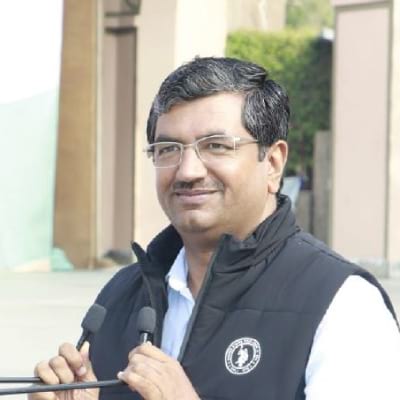 Anil Kumar, Principal, Delhi Public School Faridabad
Area of Specialisation:
Educationist, K-12 Education, CBSE Curriculum
Passionate educator and thought leader with 30 years of experience, of which 19 years as Principal DPS Faridabad – one of the twelve DPS Core Schools run directly by globally acclaimed DPS Society.
An exemplary teacher of mathematics and a successful administrator with a proven track record of providing uncommon leadership during challenging times including during the COVID 19 pandemic. During the pandemic he successfully led his school through challenges of all hues and ensured that learning did not stop. Thus, he successfully executed, in his own way, the mantra 'Keep Learning'!
Mr. Kumar's many leaderships roles include devising unconventional ways to prep students for competitive exams like NTSE, KVPY, Olympiads, INMO, IMO and IIT, heading innovative like 'Udaan'- a Govt. Of India initiative for the girl child under MHRD, serving as Lead Collaborator Principal for CBSE initiative - Hubs of Learning, serving as Regional Coordinator of-Regional Mathematics Olympiad through Tata Institute of Fundamental Research (TIFR), and serving as Head Academic Committee to CBSE (Mathematics) for two levels of Mathematics in class X and extension to classes XI and XII in the future. He has also served as member of Inspection Committee constituted by CBSE for granting Affiliation to CBSE.
He has co-authored two books, 'Problem Book of Maths' for NCERT, and 'Supplementary Textual Material for Class X' for CBSE, compiled CBSE's Teacher Manual and advised on the making of DPS Society's Teacher's Manual for Mathematics for classes IV to X.